Buddhist Cultural Links between Sri Lanka and Germany
by Senaka Weeraratna
(Hony. Secretary, German Dharmaduta Society), Sri Lanka
Das Buddhistische Haus (Berlin Buddhist Vihāra)
The Berlin Buddhist Vihāra (called "Das Buddhistisches Haus" in German) is now the most striking symbol of interaction between the German and Sri Lankan cultures and a source of pride and inspiration for people of both countries. It is the key centre in the dissemination, learning and practice of Theravāda Buddhism in Germany and other continental European countries. It also provides a venue in the heart of Europe for Meetings of Buddhist groups drawn from both within and outside Germany.
Germany has a distinguished record in Sri Lanka particularly in the literary field. The spheres of Pāli and Buddhist studies have been greatly enriched by the research and writings of German scholars. Wilhelm Geiger (1856-1953) was a pioneer of Sinhalese philology. He made a monumental contribution to a better understanding of our history by translating the 'Mahāvamsa', written in Pāli into English. Geiger also translated into German the first two volumes of the 'Samyutta Nikāya' (between 1925-1930) and edited from 1921-1926 the scholarly German periodical 'Zeitschrift für Buddhismus'.
Buddhism in Germany
Two 19th Century German philosophers may well be credited for initially stimulating Germans to study Buddhism. The renown German philosopher Arthur Schopenhauer (1788 - 1860) through his voluminous work 'The World as Will and Idea' published in 1818 wrote favourably in lucid German prose about Buddhism, and his notion of 'the will' appears close to the Buddhist concept of 'tanhā' (or 'craving'). The apocalyptic writer Friedrich Nietzsche (1844-1900) author of 'Thus Spoke Zaruthustra' followed him. Nietzsche coined the famous dictum 'God is dead'. He too spoke sympathetically of Buddhism in his writings.
They were followed by a number of other German writers such as Karl Eugen Neumann, Hermann Oldenburg, Karl Seidenstücker, Georg Grimm, Ven. Ñānatiloka Mahāthera and Ven. Ñānaponika. It has been in the German language that outstanding writers have made next to the English large contributions to the spread of Buddhism in the West. The German mind so well adapted for pains taking, high quality research probed deeply into the texts of the ancient Pāli-Canon producing translations of exemplary clarity.
Prominent among these writers was Dr. Paul Dahlke (1865-1928), a German physician. Dr. Dahlke had visited Sri Lanka eight times and studied Pāli Buddhism. He wrote Buddhist books, translated Buddhist texts, and published Buddhist Journals. He met Ven. Hikkaduwe Sri Sumangala Nayake Thera and other leading Bhikkhus. Upon his return from the East, Dr. Dahlke founded a Buddhist House (Das Buddhistische Haus) in Frohnau, Berlin on a beautifully situated plot of land - 6 acres in extent, in 1924.
The German Dharmaduta Society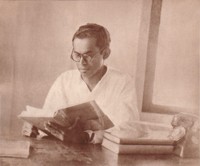 Asoka Weeraratna - Founder of the German Dharmaduta Society
The German Dharmaduta Society was founded by Asoka Weeraratna, on 21st September, 1952.
The idea of forming a Society to propagate Buddhism in Germany and other western countries dawned on Asoka Weeraratna, a young businessman dealing in jewellery and Swiss wrist - watches, while he was on his first business visit to Germany in 1951. Asoka Weeraratna became aware of the growing hunger in Germany, which was slowly recovering from total devastation in the Second World War, for an alternative moral and spiritual philosophy, that placed a very high emphasis on peace and non-violence.
On his return from West Germany and convinced of the potential for growth of Buddhism in that country, Weeraratna established the Lanka Dhammaduta Society on the 21st of September, 1952, which was later re-named the German Dharmaduta Society. Ven. Ñānatiloka Mahāthera, the well known German Scholar monk was the first Patron of the Society.
In 1953, Asoka Weeraratna, who was by this time the Honorary Secretary of the Society, in his second visit to Germany, made a survey of Buddhist activities in that country and published his investigations in a Report entitled 'Buddhism in Germany'.
The Society in 1954 launched a Million Rupee Fund under the patronage of Mr. Dudley Senanayake, the former Prime Minister, to collect funds for the permanent establishment of the Buddha Sāsana in Germany, as Arahant Mahinda had done it in Sri Lanka.
With growing public support the Society soon won the recognition and encouragement of the State and the 'Million Rupee Fund' was declared an Approved Charity by the Government. Among the many benefactors who contributed to this Fund, particular mention must be made of Dr. Walther Schmidt, a German Buddhist, who left a valuable legacy of DM 550.000 to the Society.
In 1955 the Government granted to the Society an acre of vacant crown land in Bullers Road, Colombo on a 99 year old lease. In August 1956, Hon. S.W.R.D. Bandaranaike, Prime Minister, declared open at a ceremonial public meeting, amidst a large gathering, the newly built Headquarters and Training Centre of the Society at 417, Bullers Road (Bauddhaloka Mawatha), Colombo 7 consisting of a two-storeyed dormitory of 14 rooms, an Assembly Hall, Office and Library, built at a cost of Rs. 125.000.
Eight prominent Buddhist monks led by the German monk Ven. Ñānatiloka Mahāthera and including Ven. Balangoda ānanda Maitreyya, Ven. Galle Anuruddha, Ven. Akuretiye Amaravamsa, Ven. Ñānaponika (German), Ven. Kudawella Vangîsa and Ven. Vappo (German) were attached to the Centre. These monks offered their services to train German Buddhists and others in the study of Buddhist Philosophy. Mr. Friedrich Möller, a teacher from Hamburg, who was the first German recruit of the Society arrived in the Island in 1953. He completed his period of training and received ordination under the name of Bhikkhu Ñānavimala.
Death of Ven. Ñānatiloka Mahāhera
Ven. Ñānatiloka's Monument
Ven. Ñānatiloka Mahāthera who lived in the Monks' Quarters of the German Dharmaduta Society premises where he was looked after with great solicitude, passed away peacefully on the 28th of May 1957, about three months after his 79th birthday. The Government of Sri Lanka granted an Official State Funeral in tribute to a great monk and an eminent exponent of the Dhamma particularly to the Western world. The cremation took place on June 2nd, 1957 at the Independence Square, Colombo amidst vast crowds that had gathered for the occasion. The then Prime Minister of Ceylon, Hon. S.W.R.D. Bandaranaike delivered the funeral oration.
The ashes were interred at the Island Hermitage, Dodanduwa near the late Mahāthera's hut.
A Monument that was later erected at the Island Hermitage carries the famous stanza of Ven. Assaji who had introduced Ven. Sariputta to the Dhamma. This stanza is engraved in four languages, namely, Pāli, Sinhala, German and English. It reads as follows:
"Of things that proceed from a cause, their cause the Tathāgata proclaimed and also their cessation thus taught the Great Sage."
In a tribute to the late Ven. Ñānatiloka, a well-known German Buddhist, Guido Auster said that:
"... a gratifying result of this great man's activity was the bridge of friendship he has helped to build between the people of Sri Lanka and his home country, Germany."
First Buddhist Mission to Germany
The Society sponsored the first Buddhist Mission to Germany, which left the Colombo Harbour by ship 'SS Orantes ' on June 15th, 1957. The three monks in this historic mission comprised Ven. Soma, Ven. Kheminda and Ven. Vinîta. They were all recruited from the Vajiraramaya Temple, Bambalapitiya.
The purchase of "Das Buddhistische Haus"
One of the most significant achievements of the Society was the purchase in 1957 of "Das Buddhistische Haus" built by Dr. Paul Dahlke. This Buddhist Haus was considered the Center of German Buddhism during Dr. Dahlke's time. It was converted into a Buddhist Vihāra, by the Society by providing residential facilities to Buddhist Dharmaduta monks drawn mainly from Sri Lanka.
Since 1957 there has been a stream of Buddhist monks from Sri Lanka and other countries, taking up residence in the Berlin Buddhist Vihāra. Of these dedicated monks, special mention must be made of Ven. Athurugiriye Ñānavimala Mahāthera who served as the Vihāradhipati of the Berlin Vihāra for a period of 15 years (1966-1981). These monks teach the Buddha Dharma and give instruction on meditation to Germans and people of other nationalities seeking a philosophy that places an emphasis on self-reliance, non violence and loving kindness to all living beings.
Ven. Bhikkhu Bodhi who visited the Berlin Vihāra most recently (in May 2002) and was impressed with the self sacrificing work of the resident monks and lay volunteers has said in a Message of Goodwill to the GDS that is commemorating its 50th anniversary (1952-2002) that:
"The interest in Theravāda Buddhism, as the oldest historical form of Buddhism, continues to grow in the West, and thus the (Berlin) Vihāra has ahead of it enormous scope for development. As a student and friend of the late German monk, Ven. Ñānaponika Mahāthera, I have a special concern to see Theravāda Buddhism send down strong roots in Germany".
[this article is also found in: "Daily News", October 27th, 2002]