Welcome!
Should you have any queries, please send us an Email or kindly visit us at the Vihara in Frohnau.
Please note our announcements here
The currently resident monks living in
Das Buddhistische Haus
Venerable Thalpawila Kusalagnana Thero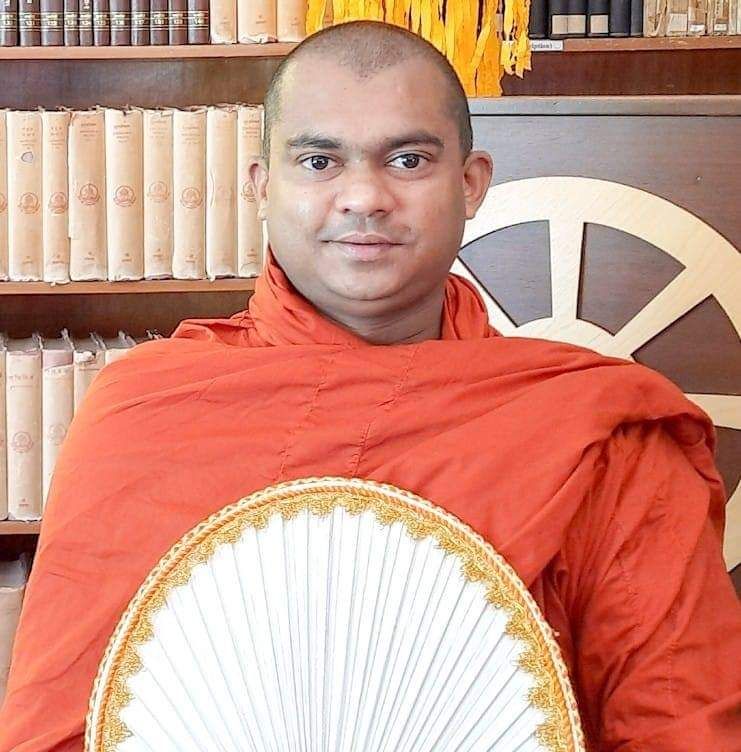 Most Venerable Thalpawila Kusalagnana Thero was born in Sri Lanka and was ordained in the Theravada tradition in 1993. After studying Buddhist teachings, practicing meditation and monastic discipline, he has been a Buddhist teacher since 2000. Venerable Kusalagnana holds the following academic degrees: M.A. Indology (Hamburg), M.A. Buddhist Studies (Kelaniya), Royal Pandit, Tripitakāchārya, Diploma in Psychological Counseling, Diploma in English, Postgraduate Diploma Buddhist Studies. He is a writer and speaks German, English, Sinhala and knows Pali, Sanskrit and Prakrit. He has lived in Germany since 2009, and at the Buddhist House Frohnau as a resident monk since 2020. He translates the Pali Canon (teaching of the Buddha) into German (www.palikanon.com), leads Buddhist seminars and meditation courses. You can watch his talks and meditation instructions at youtube.com/kusalagnana.
January 08, 2023
Tissa Weeraratna:
Emptiness (Sunyata) - spiritual freedom

January 15, 2023
Ven. Kusalagnana Thero:
Five abilities (Indriya) and their importance in the path to enlightenment

January 22, 2023
Tissa Weeraratna:
Happiness in the present through mindfulness

January 29, 2023
Rodrigo Gonzales:
Advice from the hearts of the awakened

February 26, 2023
Memorial ceremony for Dr. Paul Dahlke
April 16, 2023
Sri Lankan New Year celebration
July 02, 2023
Death Anniversary of Mr. Asoka Weeraratna
___________________________________________

Bhikkhu Patimokkha -- The main rules of the Buddhist monks --> see here

60 years German Dharmaduta Society - An article by Janaka Perera
__________________________________________
Our motto in Das Buddhistische Haus

What we do, everybody can see it.
What we talk, everybody can hear it.
What we think, everybody can know it.
The Assurance of Free Inquiry
Throughout his teachings of the Dhamma (the Law of Nature) for forty-five years, the Buddha laid emphasis on analytical investigation, freedom of thought and the value of dissent. For the first time in human history we see a teacher i.e. the Buddha, calling on his listeners to think freely, without being bound by unverifiable propositions, solely due to the reason that they had been passed down from generation to generation. The Buddha taught his followers to use their critical faculty in defining what is good and wholesome. In one discourse, the Kalama Sutta (considered as the ''''Magna Carta'''' of Buddhism by some scholars) the Buddha draws attention to some fundamental rights and privileges for the seeker after the truth.
The Kalama Sutta (Anguttara-Nikaya III, 65)
Do not believe in anything (simply) because you have heard it.
Do not believe in traditions because they have been handed down for many generations.
Do not believe in anything because it is spoken and rumoured by many.
Do not believe in anything (simply) because it is found written in your religious books.
Do not believe in anything merely on the authority of your teachers and elders.
When you yourself know:
''These things are profitable; these things are not profitable; these things are praised by ..the wise and cultivated by the wise, then accept and practise only what leads to welfare ..and happiness of both yourself and others.''
The entry request to the promotion association is in german language on-line available.
Beitrittsantrag
zum Förderverein: Formular