Heart-Sutra Retreat
3-day Silent Meditation Retreat with Zen-Master Shi Yuanyan
October 19-22, 2023
Mindfulness is a powerful tool to
overcome
internal
pressure,
and
to
tackle
chaotic
emotions in
everyday
life.
During this three
-
day retreat
you will learn
how
to
maintain
mindfulness
(
sati
)
and
pure brightness through
breathing, walking,
sitting,
eating,
and
sleeping
.
You will
also learn how to touch inner love
and
compassion
through
meditation
(
loving
-
kind
n
ess
meditation)
,
an effective
technique
to
improve
our
intimate
relationships
in daily life
.
An emphasis will be placed on the
Buddhist
teachings of the
"Heart
-
Sutra" to learn
how to enhance our insight into the truth of things (Wisdom Zen).
The retreat is suitable for both beginners and experienced practitioners.
About

Shi Yuanyan
Influenced by her grandmother, master Shi Yuanyan began to meditate in early childhood and became a nun at the age of 14 at Larung Wuming Buddhist Academy in China.
At the age of 20, she was awarded the degree of Kamalashila and has been preaching and teaching ever since. Shi Yuanyan taught meditation courses at various levels of meditation all over the world, including in the Arab Emirates (Dubai), Japan, Thailand, and USA.
Beyond her deep knowledge about exoteric as well as esoteric Buddhism (Buddhist culture and practice), Shi Yuanyan holds certificates in Western Psychology (International Psychological Counselor, CIPC; International Hypnotherapist, IHNMA). Furthermore, she is Senior Chinese Medicine Moxibustion Therapist, Senior Yoga Instructor, National Education Evaluator of Chinese Culture, Senior Lecturer of Chinese Culture, and Sleep Health Manager.
Retreat Requirements
• Respecting the periods of Noble Silence during the retreat
• Full registration

Accommodation
Venue: Das Buddhistische Haus, Edelhofdamm 54, 13465 Berlin
Accommodation on site is possible but not obligatory.
Accommodation options:
• Double or triple bedrooms with shared bathroom facilities
• Sleeping in your own tent or camper on site

Please note that due to the small accommodation capacity, single rooms cannot be booked.
However, private accommodations with single rooms in the neighbourhood are available.
On request, we will be happy to give you information on external accommodation options in Frohnau.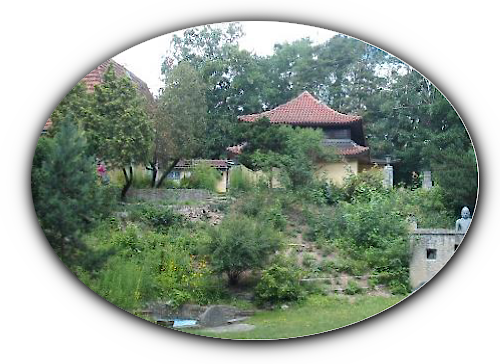 Meals
Participants will be served breakfast, lunch and a light evening meal. All meals are vegetarian. Vegan options are available on the buffet.
Accommodation in the Buddhist House is organized by the SAGE Institute. Please indicate your accommodation preferences at registration with SAGE. Also, please mention food allergies and special food intolerances (e.g., gluten intolerance).

Retreat Start and End
Arrival day (Thursday, 19 October 2023):
4:00 - 5:30pm Arrival and registration
6:00pm Welcome and organisation
7:00pm Evening snack
8:00pm Introduction and evening meditation
Closing day (Sunday, 22 October 2023):
The retreat finishes with lunch at 12:30pm (after that packing and clean-up, which takes 1-2 hours)
Costs
The
costs include a
course fee
+
teacher donation +
donation for accommodation &
food
.
The course fee is
needed for full registration and is
paid upon
online
-
registration
with
SAGE
. The donations for the teacher as well as for the
accommodation
are paid
in
cash on site.
Usually, donations for the house are given at registration on site and
donations for the teacher are given
at the end of the retreat.
Course fee
The course fee covers costs for the course organization and course management.

70€

Teacher donation
In accordance with the Dana principle of the Buddhist tradition, the teacher receives a voluntary donation after the course.

At your own discretion

Donation for accommodation and meals
The donation recommendation covers the minimum expenses of the house including food, cook and operating costs.
Please note that the Buddhist House is financed purely from donations and depends on every donation for maintenance. Any additional donation beyond the recommended package is highly welcome!

Recommended donation:
- 3 nights in a room: 105€
- 3 nights in a tent or a camper on site: 90€
- External accommodation (full board only for 3 days): 75€
Discount regulation
No one should have to forgo participation for financial reasons. If you have difficulties to pay for the course fees and / or if your budget is far below the recommended donation for the accommodation, please contact us by email. We will find a solution.
Cancellation and Refund Policy
Cancellations in the first four working days after registration do not incur any cancellation costs. If your participation is cancelled 3 weeks before the beginning of the course, your course fees will be fully refunded minus a cancellation fee of 20€. In case of cancellation up until 10 days prior to the course, 50% of the course fee will be refunded. In case of cancellation within 10 days before the start of the course, you will be refunded 30% of your paid fees. In case of withdrawal on the last working day before the course starts as well as in case of early departure, the full course fee is due.
If SAGE Institute for Mindfulness and Health has to cancel a seminar for important reasons (e.g. illness of the teacher), all costs will of course be refunded. Further liability and compensation claims are excluded. Travel costs (e.g. flight, bus and train tickets) will not be reimbursed.
Liability
Participation in the courses is at the participant's own risk. SAGE Institute as well as the course leaders do not accept any liability for personal injuries resulting from course participation, including psychological, mental or physical impairments, as well as damage to property.
Intensive meditation seminars (in silence) might not be suitable for people with severe psychiatric medical histories. If you have any concerns or questions regarding your mental or physical condition, please contact us before registering.
Registration
To register, please read the conditions of participation and fill in the registration form on the website of our partner SAGE Institute
(klick the link-button below or go to http://www.sage-institut.de/Kurse/Anmeldung

After receiving your registration, SAGE Institute will get back to you as soon as possible. If you have not received a reply within 2-3 working days, please check your email spam folder to see if the reply ended up there by mistake (info@sage-institut.de).
Please note that the course fees need to be transferred for a binding registration.
Contact
Please do not hesitate to contact our partner with any questions you have,
including accommodation, via phone (+49-30-2637-2067) or email (This email address is being protected from spambots. You need JavaScript enabled to view it.-institut.de). If do not find someone by phone, leave a message and you will be called back.
Travel Information – how to get to Das Buddhistische Haus (DBH)
The closest subway station to Buddhistisches Haus is Frohnau station (S+U Frohnau).
From Frohnau station it is a pleasant 15 minutes' walk to the house. At Frohnau station also taxis are available.
For individual connection and fares please go to Berlin Transport Authority's trip planner: http://www.bvg.de/en
Getting to DBH from the Airport:
From the airport (Berlin, BER) you can take a taxi or public transport. The most convenient, cheapest and fastest connection to Berlin-Frohnau is via Airport Express train (FEX), which takes 55 minutes from the airport to Frohnau subway station. If you cannot catch the FEX, there are also suburban trains you can take.
Getting to DBH from Berlin main station:
From the main train station (Hauptbahnhof) you can take a taxi or public transport.
With public transport, it takes approximately 35 minutes with the suburban train to Frohnau station.
From the main station it is a 20- to 25-minute taxi ride to Buddhistisches Haus (approx. 20-25€).
Taxi:
Taxi-call: +49-30-202020
Please make sure to give the taxi driver right address as there are several "Buddhist
Houses" in Berlin. Give him the zip code of Das Buddhistische Haus (13465) or say "Frohnau".